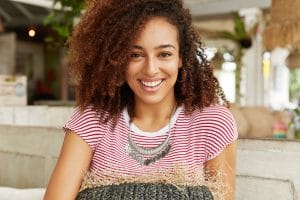 Will your dentist be able to make improvements to your appearance through cosmetic dental work? How many procedures will it take to fully address the problems that impact the condition of your teeth? Patients who want to make esthetic improvements to their smile can be excited to learn how effective porcelain veneers can be at correcting flaws. A custom set of veneers will be created specifically for your teeth. Once they are ready, and in your dentist's possession, you can go in to have them permanently placed. Once they are in position, they can hide problems with the shape, size, and color of your teeth. Because they are permanently in position, veneers are constructed with durability in mind. When you practice proper care, you can enjoy improvements that last for many years.
Learning More About How Cosmetic Treatment Can Improve Your Appearance
If you want to learn more about porcelain veneers, and make sure you can receive them, schedule a consultation to discuss these questions with your dentist. There are some issues that can prevent you from having veneers placed – for instance, veneers cannot be placed over dental crowns. Your cosmetic work may need to be delayed so your dentist can address issues with your dental health.
Maintaining Improvements Made Through Cosmetic Work
Maintaining a healthy smile is always important, but patients who have undergone cosmetic work can be especially interested in learning how they can sustain their improvements. Generally speaking, effective preventive care can help you stay clear of trouble. Brushing and flossing after meals will help you remove food particles that might affect the color of your smile. Avoid biting or chewing on hard substances so you can avoid damaging veneers.
Talk To Wager-Evans Dental About Porcelain Veneers
At Wager-Evans Dental, you can enjoy impressive cosmetic improvements when you have porcelain veneers placed. Our practice is proud to help patients fix issues that are lowering the quality of their smile, so they can feel great about how they look. Located in Reno, NV, we are proud to work with residents from South Meadows, Double Diamond, Caughlin Ranch, Donner Springs, Meadowood, Sommersett, Arrow Creek, and all surrounding communities. To schedule a consultation or your next dental appointment, contact us today  by calling (775) 829-7700.