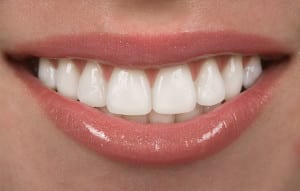 There was a time when only movie stars and models could afford cosmetic dentistry, but no more. Cosmetic dentistry is fiscally available to most everyone these days, and many people are taking advantage of it. Considering that a bright, esthetically pleasing smile can get you more job offers, more dates, and generally more attention it's no wonder people want one. Not only that, but your smile can make you feel better about yourself and give you more self-confidence. All of that goes a long way. So if you're considering improving your smile, consider whether or not porcelain veneers are right for you.
What are Porcelain Veneers?
Created from wafer-thin pieces of porcelain and bonded to the front surface of your teeth, porcelain veneers are used to improve your smile by changing your tooth size, shape, and/or color. Although veneers can be constructed of resin composite, porcelain veneers tend to be more stain resistant and blend with surrounding natural dentition due to its color and light reflecting properties.
Preparation
To prepare your tooth for a veneer, about ½ millimeter of tooth enamel will need removing so the veneer bonds flush to your tooth. Impressions will then be taken of your teeth and the model sent to a dental laboratory. It usually takes up to two weeks for the final veneers to be fabricated and bonded. One of the major advantages of veneers is they offer a conservative approach to an esthetically pleasing smile. They also require no special care and can last up to 10 years.
What Veneers Can Do
Veneers are often used to fix teeth that:
Are worn down
Are chipped or broken
Are discolored
Have spaces or gaps between them
Are pitted or cratered
Are uneven, misaligned, or irregularly shaped
About Your Reno Dentists
Dr. William Wager, Dr. Brian Evans, and our highly experienced team at Wager Evans Dental are devoted to our patients and their families, and dedicated to providing first-rate dental care in a comfortable, inviting environment. Located in Reno, we proudly welcome residents from Spanish Springs, Sparks, Incline Village, Dayton, Fernley, and all surrounding communities. To schedule a consultation or your next dental appointment, visit our office, or contact us today by calling (775) 800-4845.