Making Arrangements For Your Cavity Treatment
Posted October 2, 2017 by Wager-Evans Dental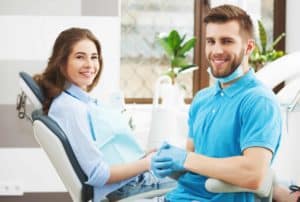 What should you consider when you need to arrange a cavity treatment? One important factor to remember is that your cavity will continue to grow, and continue to attack your tooth, until you have it addressed. The amount of damage ultimately caused by decay will determine what your dentist does in response. You may need to have a root canal performed if you develop endodontic issues. However, if you seek care before your cavity reaches your pulp, you may only require a dental filling. One way to reduce your risk for advanced cavities is to have regular dental checkups scheduled. These routine appointments give your dentist time to catch and treat a problem before it grows serious.
What Kind Of Care Will Your Cavity Require?
Cavity care will depend on what kind of issues your cavity might be causing. One big issue is whether or not decay has reached the interior of your tooth. If this has happened, you can have a root canal treatment, which will allow your dentist to remove an infection affecting your pulp. If a cavity has not made it past your enamel, this will not be needed.
It should be noted that your tooth will need a restoration placed after any cavity work you have to undergo. A dental filling can protect you after a smaller cavity, while a larger cavity will need a dental crown. Both of these restoration types can be made with appearance-friendly materials, so your smile is not negatively affected.
How Regular Dental Checkups Help Keep Your Cavity Risk Under Control
Regular dental checkups give your dentist regular opportunities to look out for any cavities affecting your teeth. Because these visits include regular dental cleanings, your risk for suffering problems at all will be reduced, too.
Talk To Wager-Evans Dental To Arrange Cavity Treatment
At Wager-Evans Dental, you can arrange a cavity treatment that will protect you from harm. By catching cavities earlier, and scheduling prompt treatment, you can limit your risk of needing a more involved form of restorative care. Located in Reno, NV, we proudly take care of residents from South Meadows, Double Diamond, Caughlin Ranch, Donner Springs, Meadowood, Sommersett, Arrow Creek, and all other nearby communities. To schedule a consultation or your next dental appointment, visit our office, or contact us today  by calling (775) 829-7700.