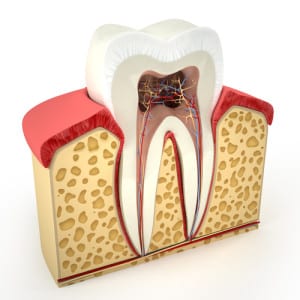 What happens when your teeth become infected? A dental infection or abscess can lead to serious consequences, including adult tooth loss and the spread of infection. While most people assume the worst about root canal therapy, this procedure can actually help preserve the health and beauty of your smile.
Root Canal Therapy Quiz
1. True or False: Root canals combat dental infection.
2. True or False: Chronic toothaches maybe a warning sign of infection.
3. True or False: We can remove the infected tissue.
4. True or False: A crown can be used to restore a tooth after a root canal.
Answer Key
1. True. A tooth becomes infected when bacteria reaches the inner pulp, typically as a result of advanced tooth decay or trauma. The pulp keeps the tooth healthy and an infection can eventually kill the tooth. To address a dental infection or a dental abscess, the doctor may recommend a root canal.
2. True. Along with toothaches, patients may notice tooth sensitivity to hot or cold temperatures, bad breath, a fever, swelling around the tooth, and a foul tasting discharge. Opening and closing the mouth may become uncomfortable as well.
3. True. During the procedure, the doctor will first open the tooth to remove the infected tissue. Following this, the root canals and tooth will be thoroughly cleaned and disinfected. We then placed a restorative filling material into the tooth.
4. True. To ensure the completed tooth looks natural and is protected from further infection, we may place a dental crown. The crown fits over the visible portion of the tooth and is designed to blend seamlessly with surrounding teeth.
About Your Reno Dentists
Dr. William Wager, Dr. Brian Evans, and our highly experienced team at Wager Evans Dental are devoted to our patients and their families, and dedicated to providing first-rate dental care in a comfortable, inviting environment. Located in Reno, we proudly welcome residents from Spanish Springs, Sparks, Incline Village, Dayton, Fernley, and all surrounding communities. To schedule a consultation or your next dental appointment, visit our office, or contact us today by calling (775) 800-4845.