The Reno Ice Rink's Season Ends February 11
Posted January 24, 2018 by Wager-Evans Dental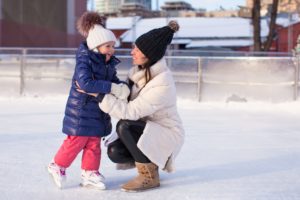 Throughout this 2017-2018 season, the Reno Ice Rink has offered Reno families a great opportunity to enjoy an invigorating, fun time out on the ice. Unfortunately, this current season is drawing to a close, as the final day of operation is Sunday, February 11. Until that day arrives, you can still enjoy plenty of fun gliding across the rink, and enjoying special events like Character Days, featuring special visits from figures in pop culture. The rink will provide skating hours every day until the season concludes.
When:
The Reno Ice Rink will be open daily from now through Sunday, February 11. For information on the rink's operating hours during these days, please click here.
Where:
The Reno Ice Rink is part of Greater Nevada Field, which is located at 250 Evans Avenue Reno, NV 89501.
Activities Include:
Every day until the rink closes for the season, the Reno Ice Rink will be in operation throughout the day for families to enjoy. On Sundays, you can  enjoy special Character Days events, where different popular characters will be on hand to interact with the kids at the rink. The Character Days events are sponsored by 106.9 More FM.
For More Information:
If you would like more information about this event, you can find it by clicking here.
Schedule Your Next Dental Visit At Wager-Evans Dental
At Wager-Evans Dental, we offer a range of important oral health services, and we aim to offer comprehensive dental care for patients of all ages. Located in Reno, NV, we proudly welcome residents from South Meadows, Double Diamond, Caughlin Ranch, Donner Springs, Meadowood, Sommersett, Arrow Creek, and all surrounding communities. To set up your consultation, or your next dental appointment, please visit our office, or contact us today  by calling (775) 829-7700.