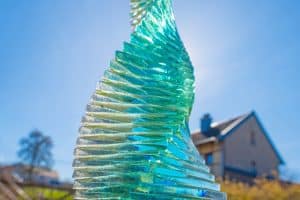 Starting on Friday, May 12, and ending Sunday, May 14, downtown Reno will be your source for impressive sculpture art. The Reno Sculpture Fest puts a variety of engaging, unique sculpture works up for display in the heart of Reno, at ReTrac Plaza, for residents to enjoy. The event will see twelve city blocks dedicated to large works and interactive installations on display. There will also be kids' activities, live painters, muralists, and more! For three days in May, you and your family can witness downtown Reno transform into an interactive, exciting, and stirring display of art.
When:
The event will operate from Friday, May 12 until Sunday, May 14.
Where:
The Reno Sculpture Fest will occupy twelve city blocks in downtown Reno. The festivities are concentrated at ReTrac Plaza.
Cost:
There will be a variety of events during the Reno Sculpture Festival. There will be free events, but some live performances will require you to purchase a ticket.
Activities Include:
You can see twelve city blocks in downtown Reno transformed to provide entertainment, and showcase a variety of impressive sculptures selected for display. There will also be live performances, interactive events, and other forms of entertainment.
For More Information:
For more information about this event, click here.
Ready For Your Next Dental Checkup? Come To Wager-Evans Dental!
At Wager-Evans Dental, our team is happy to take care of your oral health needs. When you arrive for a routine dental exam, you can enjoy a careful review of your oral health, and an expert cleaning that will protect you from problems like tooth decay. We proudly welcome residents from South Meadows, Double Diamond, Caughlin Ranch, Donner Springs, Meadowood, Sommersett, Arrow Creek, and all surrounding communities. To schedule a consultation or your next dental appointment, visit our office, or contact us today  by calling (775) 800-4845. Our patient forms are online.