Comprehensive Dentistry Can Offer Full Mouth Reconstruction
Posted December 1, 2015 by Wager-Evans Dental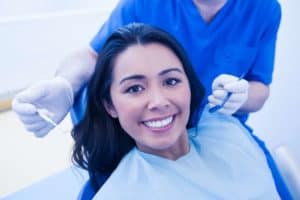 For people with severe or prolonged oral health problems, a single procedure can be insufficient to fully treat their ongoing issues. A practice that offers comprehensive dentistry can perform a range of treatments to restore your oral health, and can provide replacements for lost teeth. A healthy, attractive smile can be crucial to your self-confidence, and the health of your teeth and gums can have significant effects on your overall health. With comprehensive dentistry, you can have a full mouth reconstruction that provides essential improvements to your health, and to the esthetic quality of your smile.
Restoring Damaged Teeth To Proper Health
Teeth that have been eroded by cavities can require more than a filling – you may need a root canal treatment to excise infected material within the pulp of an affected tooth. Because a root canal can remove too much of a tooth for it to be supported by a filling, a dental crown can be used to cover and protect it. The physical effects of damage and decay on teeth can be covered with porcelain veneers, semi-translucent shells that cover the front of your teeth, and provide a more ideal color and appearance.
Replacing Lost Teeth
If a tooth is too severely damaged to be restored, your dentist can perform a tooth extraction. Dental bridges can be custom-made to replace a tooth, or several teeth. In cases of total tooth loss, your dentist can provide you with dentures. In both cases, your dentist can insert dental implants, metal roots that attach to your jaw bone, which can anchor your replacement teeth to the jaw for an optimal fit.