Major Smile Improvements From Your Comprehensive Dentist
Posted May 19, 2017 by Wager-Evans Dental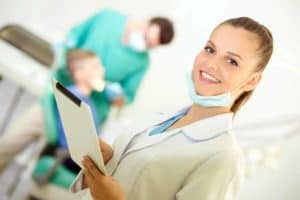 If your smile faces some major issues, the process of fully rehabilitating your teeth can take several procedures. For some patients, restoring how they look will call for a combination of restorative and cosmetic dental work, followed by a commitment to regular checkups for preventive care. Access to a comprehensive dental practice means you can arrange to undergo a variety of important services. Having a dentist who can offer a range of treatments can give you a real shot at transforming your smile, and revitalizing your oral health.
Combining Restorative And Cosmetic Care For Big Changes
Unsightly dental problems can call for both restorative and cosmetic attention. Your dentist can start providing care by addressing any active issues, like tooth decay, or gum disease, affecting how you look. Once all problems have been managed, you can move forward to discussing cosmetic treatment. With porcelain veneers, for example, you can make terrific changes to how you look by addressing discoloration, chips and cracks, and other issues marring your appearance.
In some cases, a person's restorative care can lead to the changes they want to see with their smile. Because you can have a dental crown constructed with life-like materials, your smile can look great after undergoing necessary treatment.
The First Step In Any Restoration Plan Is To Discuss Your Needs With Your Dentist
What can your comprehensive dentist do to make your smile healthier and better looking? The answer is different for different patients – to learn what you need to revitalize your oral health, see your dentist for a consultation. They can give you a breakdown of the issues you face, and lay out what treatments may be needed.
Count On Comprehensive Dental Care At Wager-Evans Dental
When you go in for dental care at Wager-Evans Dental, you can enjoy dedicated care that addresses the full range of your needs. In addition to standard preventive care, Dr. Evans and his team are able to do involved restorative work, and offer cosmetic treatment. Located in Reno, NV, we proudly accept residents from all neighboring areas, including South Meadows, Double Diamond, Caughlin Ranch, Donner Springs, Meadowood, Sommersett, Arrow Creek. To schedule a consultation or your next dental appointment, visit our office, or contact us today  by calling (775) 800-4845. You can find our patient forms online.