Quiz: Things You Should Know About Root Canal Treatment
Posted December 8, 2017 by Wager-Evans Dental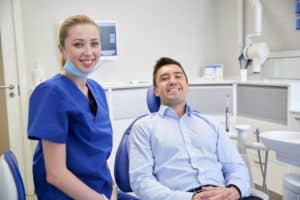 It would be strange to find out that a patient walked into a routine dental exam hoping to learn they needed a root canal treatment. After all, this procedure has a reputation that tends to make people wary. If you do discover you need this type of restorative work done on a tooth, you should not feel alarmed. It is used to address an internal tooth problem, something that can have a big impact on the state of your oral health. Your dentist will safely remove infected tissue from your pulp, seal it, and place a crown on the tooth. Modern care can limit the discomfort of a root canal, and can even offer you a restoration that looks like a natural tooth, so your smile is not adversely affected.
Questions:
True Or False: Root canals always have to be performed if you want to remove a cavity.
True Or False: After a root canal, your dentist will provide a patient with a dental crown, which offers needed protection for the affected tooth.
True Or False: If you do not receive a root canal when you need one, you can lose your tooth!
Answers:
False! Not all cavities make a root canal necessary. Root canals are only used when a problem has impacted the interior of your tooth.
True! Dental crowns offer the kind of support your tooth will need after you have a root canal performed.
True! If bacteria manage to reach the interior of your tooth, and you do not have it treated, the harm done to the tooth's living tissue can make extraction the only option available to your dentist. Leaving the problem to persist can also let an infection spread beyond your tooth.
Talk To Wager-Evans Dental If You Think You Might Need A Root Canal
You can look forward to expert care from Wager-Evans Dental when you need a root canal, or any other restorative work to protect your tooth. Located in Reno, NV, we proudly care for residents from South Meadows, Double Diamond, Caughlin Ranch, Donner Springs, Meadowood, Sommersett, Arrow Creek, and all surrounding communities. To schedule a consultation, or your next dental appointment, please visit our office, or contact us today  by calling (775) 829-7700.