Reno Dentists on Surprising Uses for Oral Care Products
Posted December 12, 2012 by Wager-Evans Dental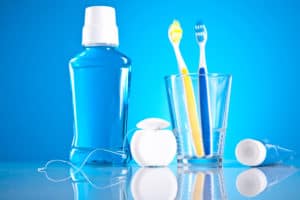 Many people believe that toothpaste and mouthwash only have one use—to clean the teeth and mouth. However, there are a surprising number of uses for both in cleaning around the house and around the body. Your Reno dentists offer several surprising uses for these oral care tools.
The Cleaning Power of Toothpaste
Non-gel toothpaste can be used to clean more than just your teeth. It can also clean:
Shoes—toothpaste can remove scuff marks from leather shoes. It can also whiten the rubber parts of athletic shoes.
Diamond rings—toothpaste and a damp cloth can make diamonds shine.
Crayon on walls—the slight abrasives of toothpaste will lift crayon stains right off with a little scrubbing.
Bathroom sinks—use with a sponge and watch your sink get clean.
In addition, toothpaste can also prevent your bathroom mirrors from fogging up, if you apply it before a shower. It can also stop goggles from fogging up as well. Scrubbing baby bottles with toothpaste will remove the odor, and it will also take off any foul smell from your hands if you use it with water.
Extraordinary Mouthwash
Mouthwash also has incredible powers you may not realize. Some of mouthwash's many other uses:
Helps with athlete's foot—swab the itchy areas with a cotton ball several times a day, and mild cases should soon clear up. Make sure the mouthwash you use is an antiseptic brand.
Battles dandruff—rinse out shampoo in your hair with an alcohol-based mouthwash. Doing that should help knock out the dandruff.
Clean cuts—alcohol-based mouthwashes are terrific for cleaning and disinfecting small cuts.
Clean toilets—a quarter-cup of mouthwash, added to the toilet bowl and allowed to sit for half an hour, will help lift off stubborn stains
Clean clothes—alcohol-based mouthwash will kill fungi and bacteria in clothes that normal detergents might not be able to, so pour a cup in with your washload.
Your Reno Dentists Can Clean Your Teeth
Of course, when you're using your toothpaste and mouthwash to clean your house, don't forget that their primary purpose is to clean your teeth. If it is time for your professional checkup and cleaning, contact our Reno dentist office at 775-829-7700. We are proud to provide comprehensive dentistry to patients in the 89502 zip code, and surrounding communities.