The Biggest Little City Water Adventures
Posted May 20, 2015 by Wager-Evans Dental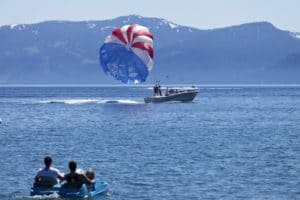 Did you know that Reno, Nevada is known as The Biggest Little City in the World? And it has a lot of big…and little…things to do. No matter your interest you can find it in the Reno/Sparks area. There are casinos, indoor sports, movies, entertainment, outdoor sports, mountains, skiing, parks, swimming, and more. Looking to enjoy some water sports? The Biggest Little City has Reno water adventures for you.
What: Reno/Tahoe Water Activities
Where: A variety of places
When: Any time
About
The Reno-Lake Tahoe area is running rampant with water activities. Lake Tahoe is a proud gem considered the "Jewel of the Sierra." It is 193 square miles of beauty and along with Pyramid Lake, Donner Lake, the Truckee River, and the Carson River, numerous opportunities for kayaking, whitewater rafting, canoeing, skiing, sailing, open-water paddling, fresh water scuba-diving, and speeding, spinning, and spraying on personal watercrafts are available for the water enthusiast.
Swimming
If you are more of a swimming pool kind of peep, Reno Sparks has eight public swimming pools to enjoy including the Alf Sorensen Swimming Pool, Deer Pool, and Wild Island in Sparks.
Fishing
The Reno-Tahoe area is a great place for fishing, too. If that's what interests you the Truckee River is a great place for fly-fishing. Your kids will love the fly-fishing-only-catch-and-release section. Prefer lake fishing? Take a gander at some world-class mackinaw at Lake Tahoe, or check out the Lahontan cutthroat trout fishery at Pyramid Lake.
Rentals
Looking to rent some watercrafts? Action Watersports at Meeks Bay offers boat rentals and waterski instruction. Located in the Plumas National Forest, and amidst beautiful mountain scenery you will find a secluded reservoir and the Adventures of Reno, which offers Jet Ski rentals on Frenchman's Lake.
About Your Reno Dentists
Dr. William Wager, Dr. Brian Evans, and our highly experienced team at Wager Evans Dental are devoted to our patients and their families, and dedicated to providing first-rate dental care in a comfortable, inviting environment. Located in Reno, we proudly welcome residents from Spanish Springs, Sparks, Incline Village, Dayton, Fernley, and all surrounding communities. To schedule a consultation or your next dental appointment, visit our office, or contact us today by calling (775) 800-4845.